FOR DOWNLOAD
The group photo is available to be downloaded below.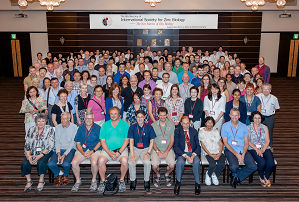 REGISTRATION
REGISTRATION opened on March 1st, 2019!
All conference attendees must register for the conference from the registration tab.
Early Registration: March 1st, 2019 – May 31st, 2019
Late Registration: June 1st, 2019 – August 31st, 2019
---
ABSTRACT SUBMISSION
Abstract submissions are now closed. Thank you very much for submitting many poster abstracts!

---
HOTEL ACCOMMODATIONS
Registrants will have an opportunity to reserve their room accommodations at Kyoto Garden Palace, or other hotels in Kyoto via ISZB-2019 homepage. Registrants can book their room AFTER registration for the conference.
NOTE: September is the best season for tourists in Kyoto, so please register first and book your room as soon as possible.

---
EXCURSION
Excursion is held on Wednesday afternoon, Sep. 11, 2019.
We offer a half-day tour visiting the historical world heritages of Byodoin Temple and Ujigami Shrine with English guide.
>>Learn more about the excursion

---
VISA
If you are required a visa to enter Japan and need an invitation letter from the organizer, please fill out the Request Form below and send the Excel file to iszb2019_inqweb-register.jp
** Please make sure to complete your registration and payment before making the request.
>>Downlord Request Form

Greetings from the Committee
The 6th meeting of International Society for Zinc Biology (ISZB-2019)
Theme: "The New Sunrise of Zinc Biology"
September 9th- 13th 2019, Kyoto, Japan
We are delighted to announce that the 6th meeting of International Society for Zinc Biology (ISZB-2019) entitled "The New Sunrise of Zinc Biology", in September 9th-13th at Kyoto, Japan. The official website for ISZB-2019 is now open where you can find the program outline, plenary lecture speakers, accommodation and location, etc.
The meeting will take place at the Kyoto Garden Palace Hotel, which is in the center of Kyoto city and has excellent conference facilities. We plan social program including welcome dinner, Kyoto tour, and a Gala dinner. We would encourage early booking of the accommodation because September is popular season for tourists to visit Kyoto, and the hotels get booked up so quickly.
We look forward to welcoming you to Kyoto in September 2019, and to a very successful and productive meeting.
Best regards,
Toshiyuki Fukada (Chair of the organizing committee)
Taiho Kambe (Co-Chair of the organizing committee)
Atsushi Takeda (Co-Chair of the organizing committee)