Dear Colleagues,
It is with great honour that I welcome you to the 6th meeting of the International Society for Zinc Biology which will be held in Kyoto, ISZB-2019.
The International Society for Zinc Biology promotes and advances research in all areas of zinc biology. This Society strongly encourages the exchange of information and ideas among zinc researchers from all over the world. Our biannual meetings are always friendly and a suitable platform for encouraging generation of new networks and developing more longer-term relationships. As a result, much has now been discovered about zinc in biology and no longer is it considered the inert ion that only has a role in transcription but that it has very important effects on the signalling capability of cells which can manifest themselves within seconds rather than hours. This speed of action of zinc now rivals calcium ions in importance and both zinc and calcium can work in concert to produce their cellular effects.
This move forward in the zinc field has brought with it the discovery of multiple mechanisms as well as the development of an array of useful tools, hopefully to increase the scientific impact of zinc in biology in the coming years. There are now numerous groups around the world who have great expertise in zinc biology and ISZB-2109 offers the perfect opportunity to catch up with all the new developments.
This meeting not only includes eminent keynote speakers but an ordered array of sessions that will address the impact of zinc from deficiency to therapy including new zinc sensors, neurological roles of zinc, the role of zinc in immunology and inflammation and the physiology, biochemistry, genetics and cell biology of zinc in health and diseases such as cancer and diabetes. Furthermore, there will be a young researcher session to encourage the next generation of zinc researchers.
The meeting lasts for five days and includes most meals as well as an excursion. The meeting is based in one hotel offering numerous opportunities for delegates to meet casually after the formal lectures and expand their knowledge and contacts.
ISZB-2019 is being run by the extremely capable hands of Toshiyuki Fukada and Taiho Kambe who have a large local team who are all working hard for our benefit already. I must thank these organisers for their consistent hard work and commitment to what I am sure will be the best ISZB conference yet.
I will end by thanking you all for your attendance at this meeting and with your support this will likely be an interesting meeting of the highest scientific standards.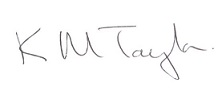 Kathryn M Taylor
President of the International Society for Zinc Biology